Welcome to the official ImpurityGames store

This is the right place to improve your player experience.
We offer Rank and Boosters.
You can choose the product category in the menu at the top left.
Payments are managed and protected by PayPal.
Server IP:
mc.impuritygames.com

About Us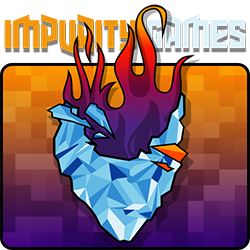 We are a team of enthusiasts who, after years of experience in Minecraft online servers, decided to share knowledge, experience and skills to create something new.
Our goal is, through our knowledge, being able to bring innovations where they are lacking, always trying to leave that touch of originality.
Having said this, it will be up to you to get to know each other in more depth, as it will be realized and in the future, also to exchange a few words in order to improve the project.
We are open and willing to compare ourselves on: constructive ideas and criticism.
Respect is at the base of this network.


Payment methods we accept

Important Notice
The ImpurityGames server is not affiliated with Mojang, AB. Or should it be considered a company approved by Mojang, AB.
All contributions and purchases in this store will go to the ImpurityGames Development Team.
For more information, support or purchase history please contact us at: info@impuritygames.com
© ImpurityGames 2019 - 2020
Support
If you have any questions or problems related to payments, please write to our email: info@impuritygames.com
Purchases

fantomato
1x Vip Croha - 1 Month (fantomato)

TrueTek
1x Vip Keda - 1 Month (TrueTek)